Many cities in Laos are struggling to cope with floods after days of heavy rain unleashed by tropical depressions, some Urban-LEDS cities were seriously hit. ICLEI SEAS reached out and provided assistance to these cities while conducting a participatory risk appraisal (PRA) of the flooded cities.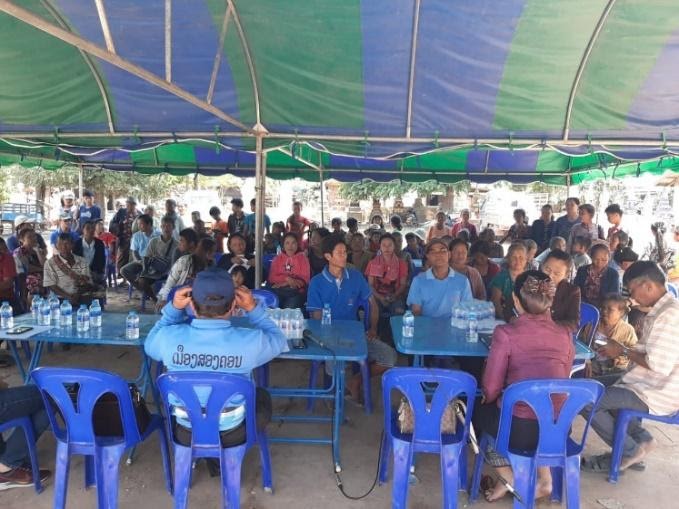 Several cities in Laos were left inundated following tropical storms Podul and Kajiki which left a number of casualties and damaging large swathes of rice fields. The government warned 15 provinces to be on the alert for heavy rain and wind from 29 August to 3 September 2019. Local authorities have evacuated local residents to safe places and higher ground.

Following the onslaught of the two typhoons to the provinces of Champasak and Savannakhet in Laos last September 2019, the Urban-LEDS II project coordinated with city authorities to conduct a preliminary risk assessment to the affected communities from Pakse, Kaysone Phomvihane, Songkhone, Sanasomboun, and Bachiangchaleunsouk while also providing some emergency response kits.

The activity aimed to hear firsthand from the community the hazards they are exposed to and their vulnerabilities in terms of disasters and climate impacts; capture the challenges that both the communities and the city government is facing in times of natural disasters/climate impacts, and discuss with the community and local government representatives priority areas and potential initiatives to help address their vulnerabilities.

The participatory disaster risk assessment (PDRA) used participatory rural appraisal tools in community disaster risk assessment and planning. Use of PRA in community risk assessments invites community participation, lively exchange of ideas, and negotiated decisions between the community and other stakeholders.

A city official told the Urban-LEDS II project team during the field visit that247 villages in ten districts of Savannakhet were affected by floods including Kaysone Phomvihane city. According to initial reports, almost 29,000 families were affected and roughly 36,000 hectares of rice fields flooded. Many roads, bridges, and irrigation channels have also been affected by the flood. Local authorities are still assessing the damage and surveying flood-stricken areas. They also helped in moving people from flooded and at-risk areas to higher ground.

In Pakse City, it was reported that almost 6,000 families in 34 villages along the Mekong and Xe River were affected by floods and many hectares of rice fields were flooded. Pakse City Mayor Soulivanh Sawathasine shared that "…people living in low areas of the city could be affected by floods. The second storm brought heavy rain to the city, which is still grappling with earlier flooding. People who live in low-lying areas along rivers were affected by the heavy rains, flash floods, and landslides…"

Apart from Kaysone Phomvihane and Pakse city, some satellite cities of Urban-LEDS including Songkhone, Sanasomboun and Bachiangchaleunsouk had also suffered varying degrees of flooding. Thousands of people were in need of food and drinking water during the floods, while some cities needed boats to access. Both the national and local governments are closely working together to ensure the recovery of the affected communities, especially those whose livelihoods were affected particularly the farmers.
Houses located along the Xedon river affected by flood Photo: Urban-LEDS II project team