Achievements of Phase I
Urban-LEDS Phase 1 ran from 2012 – 2015. Click on the links below to learn more about the achievements of the first phase of this project in Brazil, Indonesia, India and South Africa.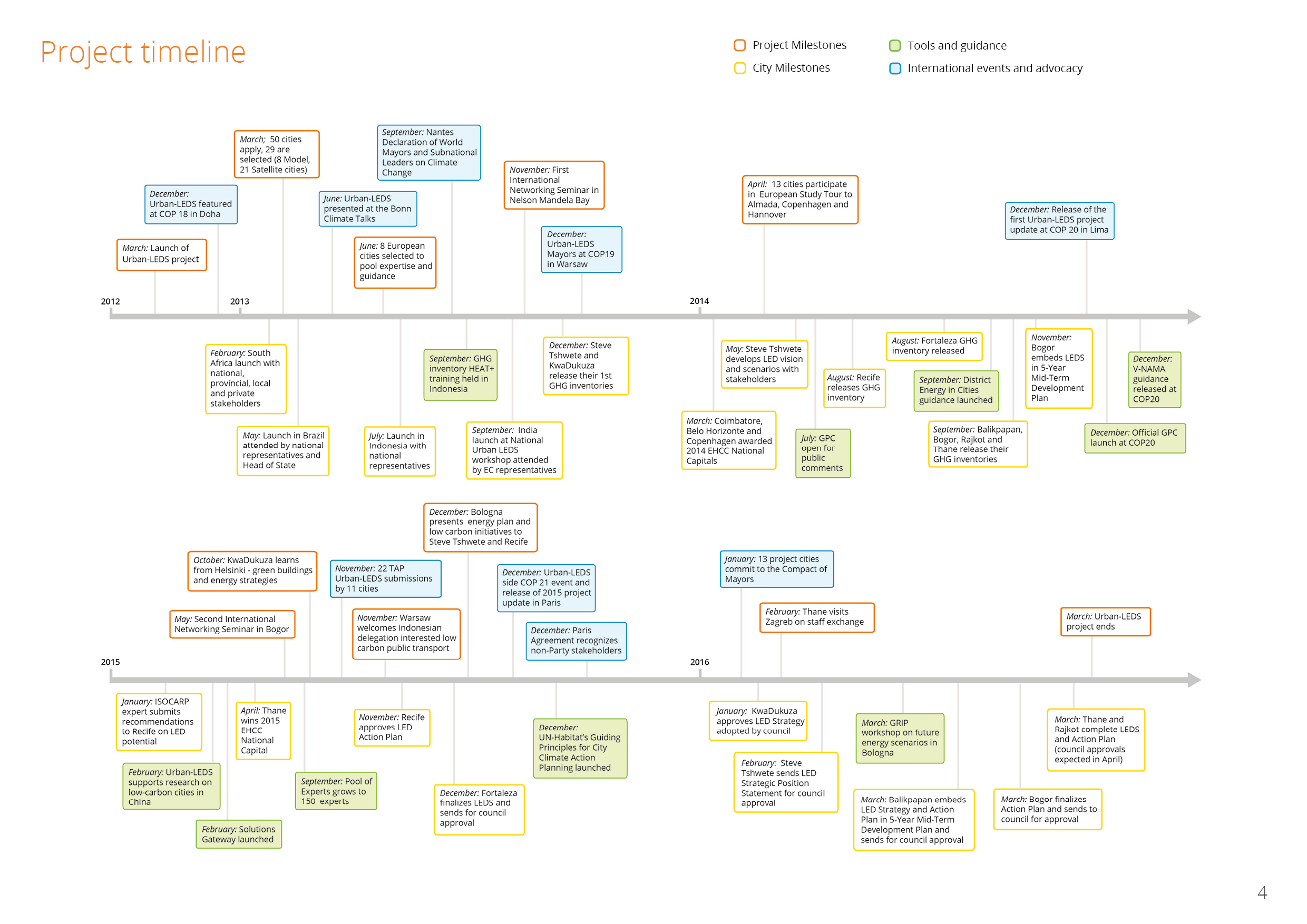 The Urban-LEDS project supported local governments in emerging economies to reduce greenhouse gas emissions while achieving local development goals. By exploring innovative approaches to involve stakeholders, develop low emissions development scenarios and improve institutional capacity to plan, act and monitor, ICLEI and UN-Habitat guided 37 cities on a path to low-emissions development.
A guidance and support package was provided to the local governments involved in this project. This includes practical process guidance, technical and policy expertise, advise on vertically integrated climate action between different levels of government, and financing models. In all cases, local and national contexts were considered when developing tailor-made approaches.
This support package was used to assess existing policies, regulations, structures and procedures of participating local governments, create new data in the form of greenhouse gas emissions inventories, develop low emission development strategies and action plans, as well as to implement pilot projects and seek financing for the implementation of their plans.
Urban-LEDS Phase I in numbers
All the data presented in this infographic has been reported to the carbonn® Climate Registry (cCR) through the Urban-LEDS I project. The following are some clarification points:
31 out of the 37 Urban-LEDS I cities are reporting in the cCR.
Total community emissions reported in mega tons of carbon dioxide equivalent (MtCO2e) are for the latest reported year of phase 1 (2016).
Climate commitments of phase 1 included: energy efficiency targets, renewable energy targets and emissions reduction targets.
Projected GHG emissions reduction foreseen resulting from the Urban-LEDS I project activities is estimated to amount to at least 5,9 MtCO2e, between 2017 and 2030, based on the GHG emissions mitigation commitments made by the 8 Urban-LEDS Model Cities.
The Transformative Actions Program (TAP) project pipeline was launched in 2015 and 22 projects were submitted by Urban-LEDS I cities.
Read 32 case studies of Urban-LEDS phase I, and other cities, here
Urban-LEDS I global peer exchanges
The first phase of the Urban-LEDS project led to the creation of a global network of cities engaging in South-South-North exchange and peer-learning (map below). International exchanges, for both political representatives and technical experts, were organised between the project cities, with an aim to share experiences, deepen their understanding of low emission development concepts, and gain insights from their peers. Importantly, these events also provided opportunities for useful relationships to be built between officials from cities around the world. In total during Urban-LEDS I, 43 peer exchange and capacity development trips were undertaken by cities to 9 different destinations.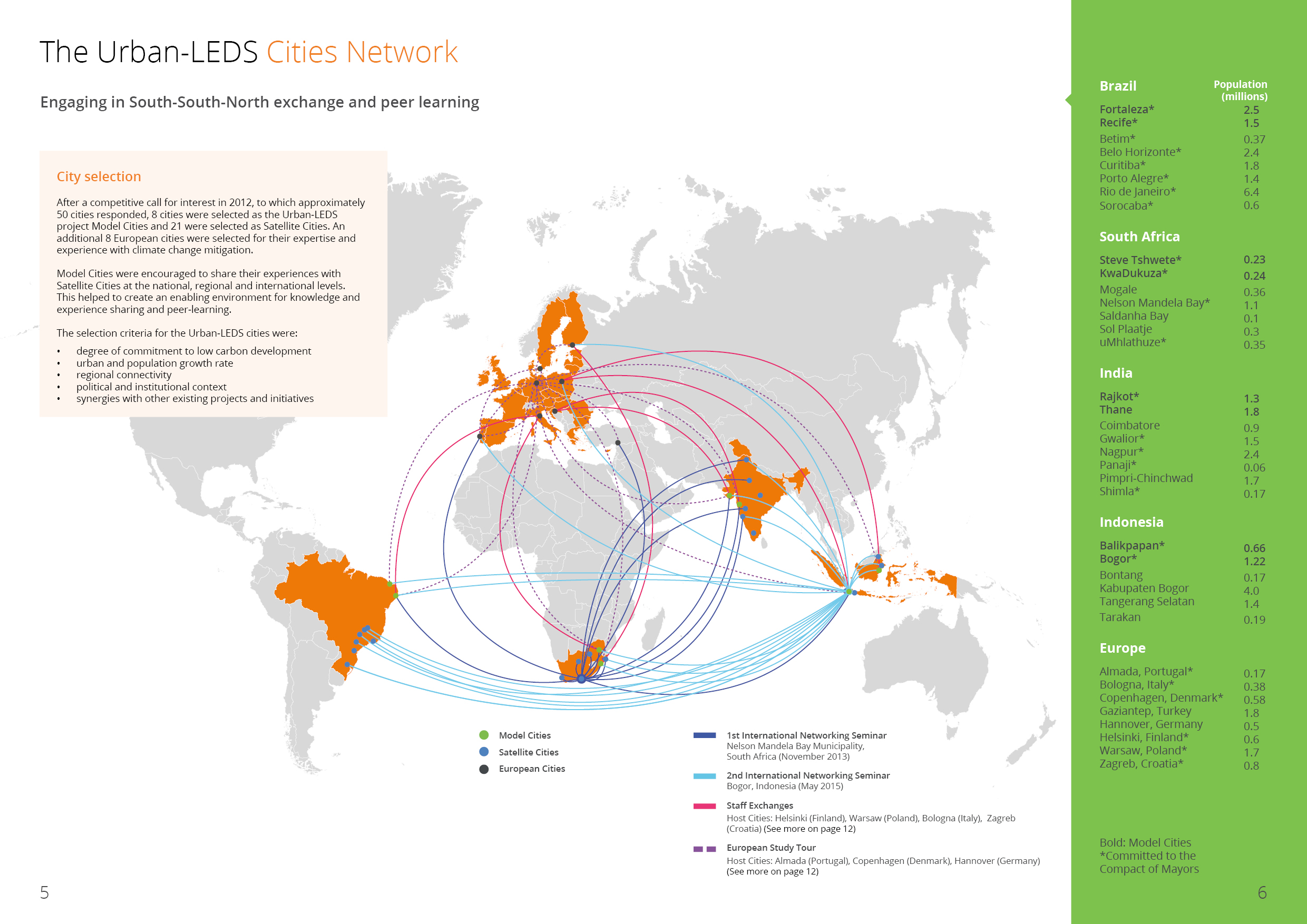 Two international networking seminars were organized in Nelson Mandela Bay Municipality, South Africa (2013) and in Bogor, Indonesia (2015). Cities came together to share achievements, map priorities and identify solutions, tools and strategies.
The first seminar hosted by Nelson Mandela Bay Municipality was attended by 18 Urban-LEDS cities. It combined capacity development, exploring vertical integration with special reference to South Africa, and involved local site visits including to a local wind farm.
The second seminar in Bogor, with 22 Urban-LEDS cities' representatives attending, focused on climate change reporting, emissions commitments and LEDS in the context of future urban growth. Key issues explored included effective strategic planning and stakeholder engagement, and embedding measurable, reportable and verifiable (MRV) climate action processes into low emission development. Additional hot topics included the issue of access to finance and how Urban-LEDS cities may contribute to raising the global climate ambition in the run up to the COP 21/CMP11 in Paris, France and beyond. Read more here.
You can read more on the European Study Tour and of the Staff exchanges in the page European cities.