Urban-LEDS and related Webinars

Daring Cities 2020: Innovative Climate Finance Case Studies
October 8, 2020 | 15:00 – 17:00 CET
This peer exchange session brings together city representatives and financial experts to share experience on using innovative climate financing tools. What works? How do you find the right tool? What lessons have been learned in projects that already have been implemented?
Local governments are at the frontline of climate action. Yet subnational governments still often struggle to access finance required for sustainable, low-to-no emission, climate resilient development and are uncertain using innovative instruments and trying new approaches.
With existing good practice, available tools and expertise, this session brings information and knowledge to city representatives – also encouraging them to share their questions and experiences with each other. The workshop will focus on approaches taken, exploring what worked well and why.
The session also provides a platform where local governments can interact with financial experts, helping each other to better understand how to find and use innovative financing tools such as green bonds, revolving fund, energy performance contract or crowdfunding for their climate project.
This interactive session offers a unique opportunity to showcase achievements, inspire each other, exchange ideas, and find solutions together. Join us!
Opening remarks
Jean-Francois Habeau, Executive Director, FMDV, France
Moderator
Eszter Mogyorósy, Head of Innovative Finance, ICLEI World Secretariat, Germany
Product launch speaker
Robert Kirchner, Project Manager GIZ, Covenant of Mayors Sub Saharan Africa
Panel discussion facilitator
Bella Tonkonogy, CPI Associate Director, CCFLA Secretariat
Panelists
Otavio Calumby, Head of the Special Projects Office of the Municipality of Recife, Brazil
Daniel Sullivan, Manager: Strategic Policy Branch, Cape Town, South Africa
Dr. Vangelis Marinakis Electrical and Computer Engineer, National Technical University of Athens, Athens, Greece
Christine Knapp, Sustainability Director for the City of Philadelphia, USA
Group discussion facilitators
Paul Scharfenberger, Executive Director, Colorado Clean Energy Fund, USA
Jonas Fleer, Programme Manager, Frankfurt School, Germany
Rebecca Cameron, Senior Officer, ICLEI Africa, South Africa
Maria Tapia, Lead Climate Change Specialist, Inter-American Development Bank, USA
Please note that this session had a 30-minute group discussion. The attendees were invited to join a breakout room on Zoom during the live session (at min. 01:08:19). The group discussions recordings are not available, however a comprehensive summary of the main findings has been shared starting at min. 01:08:27.
Access the full Webinar Recording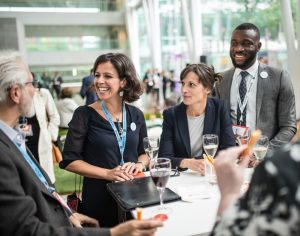 Daring Cities 2020: Test Your Pitch
27 October 2020 | 08:30 – 10:30  CET
One of the main bottlenecks identified why local governments continue to be unable to access climate finance is the limited knowledge about the needs and requirements of funders. Furthermore, they rarely have the opportunity to engage with them directly. In a similar way, financial institutions encounter difficulties in identifying bankable projects from sub-national governments and have limited exposure to the wide range of projects that cities have, nor do they understand the challenges and obstacles faced by cities in accessing finance and funding.
Now, this session aims to give tips and tricks of project pitching, highlighting the key elements and considerations, the DOs and DON´Ts, as well as giving practical advice.
In this pitching session funders and project developers can meet, discuss and test ideas. This facilitated process will allow the sharing of both implicit and explicit knowledge, which is essential for improved project preparation, bankability and access finance.
Participants divided in two (2) groups will work on eight (8) TAP and Urban LEDs project proposals. In each group 4 project developers can test their pitch using a standard template, and get recommendations from the group and a jury consisting of financial partner/institution representatives.
Contributors
Facilitator: Ms Inga Beie, Project Coordinator FELICITY, GIZ
Speaker presentation: Ms Eszter Mogyorósy, Head of Innovative Finance, ICLEI World Secretariat
Group 1:
Facilitator: Mr Pablo Nunez, Director, Investor Relations, GIB
Jury:    

Ms Giulia Macagno, European Investment Bank/Gap Fund
Mr Marcus Mayr, UN Habitat
Mr Arne Janssen, Cities Alliance
Mr Augustin Maria, World Bank/Gap Fund
African project 1: Sustainable Kampala Entebbe Metro Rail, Mr Alex Kivumbi, Makindye Ssabagabo, Uganda
African project 2: Coastal Adaptation Project or River Health Programme, Ms Shannon Moffett, Vuthela Local Economic Development Programme, KwaDukuza, South Africa
Asian project 1: Waste to Energy Pandansari Market, Balikpapan, Mr Suryanto Kepala, Head of Environment Agency, Balikpapan, Indonesia
Asian project 2: Green Urban Transportation, Ir. H. Budidaya, M. For, Sc., Regional Secretary, Jambi City, Indonesia
Group 2:
Facilitator: Ms Justine Audrain, Deputy director of programs, FMDV
Jury:   

Mr Serge Allou, UCLG/IMIF
Ms Susann Mende, CoM SSAIII/GIZ
Ms Sophie de Coninck, UNCDF/LoCAL
Mr Malte Lellmann, C40 Cities Finance Facility (CFF)
African project 3: Restoration of Ecological Infrastructure to Enhance Water Security, Ms Rulien Volschenk, Senior Environmental Management Officer, Overberg District Municipality and Ms Carla Ackerman, Agulhas Biodiversity Initiative , South Africa
African project 4: Improvement of solid waste management, Mr Edgar Chilanzi Mulwanda, Sustainability Specialist, Lusaka, Zambia
Asian project 3: Transforming Hoi An into a Bicycle-Friendly City, Tran Thi Kieu Thanh Ha, Livable Cities Project Manager, HealthBridge, Hoi An, Vietnam
Asian project 4: Waterways: Tangerang's New Water-based Public Transportation System, Mr Sugihharto Achmad Bagdja, Head of Regional Development & Planning Agency, Tangerang, Indonesia
Wrap up and closing remarks: Ms Inga Beie, GIZ/FELICITY
Access the full Webinar Recording

Ensuring Strong Community Engagement in Solid Waste Management
June 26, 2020 | 09:00 CET
Waste generation is of central concern in urban areas, particularly because most waste ends up in landfills. Cities and regions, including regencies, play an important role in mitigating climate change. Learn how Bogor Regency, Indonesia is engaging the community in reducing the carbon footprint, turning waste into opportunities and improving environmental conditions.
Access the full Webinar Recording

Benefits of cities for higher ambition NDCs and post-COVID recovery
17 November 2020 | 15:00  CET
The main objective of the webinar was to discuss how Nationally Determind Contributions can be used by national and local government to drive sustainable urbanization in the post-Covid recovery. Integrating and coordinating national and local climate action will enable scaling up and accelerating action on climate change.
Access the full Webinar Recording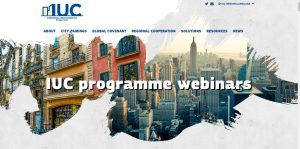 Local solutions for healthier cities: improving urban air quality
10 March 2020 | 9:30 – 11:00 CET
Worldwide exposure to outdoor air pollution causes 4.2 million deaths every year. Urban populations are particularly exposed to poor air quality due to high concentrations of air pollutants in cities from different sectors and geographical origins. To successfully address air pollution in cities, there is a need to shift towards more sustainable transport, energy supplies, and public space design and management. Cities are innovation hubs. They thus have a key role to play in improving air quality through the design, monitoring and implementation of air quality plans at local level. However, of course, national and international collaboration is also essential.
This webinar opens with an overview of the most common sources of air pollution in cities. It delves into examples from cities across global regions deploying solutions to guarantee safe air quality standards for their citizens.
Agenda
Welcome and introduction – Eugenia Mansutti, Covenant of Mayors
Presentation of the IUC programme – IUC Coordination Unit
Air quality in cities: sources and solutions – Fabio Monforti, Scientific Project Officer, Joint Research Centre, European Commission
Traffic management solutions to improve air quality – Gabriel Voisin-Fradin, City of Métropole Grenoble-Alpes (France)
The process of developing a "Clean Air Action Plan" in Surat (India) – Mr. Ajay Nagpure, Head, Air Quality, WRI, India
Managing air quality – Seoul Metropolitan Government (South Korea)
Q&A session
Conclusions and wrap-up – Eugenia Mansutti, Covenant of Mayors
Moderator: Eugenia Mansutti, Covenant of Mayors
For more information, contact: support@iuc-europe.eu.
Click on this link to access all the webinars of the IUC Webinar Series
Access the full Webinar Recording

Smart Cities for Low Emission Development
26 February 2020 | 14:30 – 16:00 CET
The webinar aimed at showcasing how successful smart city solutions and practices support local governments in their journey to reduce their GHG emissions and how they can be replicated and transferred to other cities and contexts. For this purpose, the webinar explored how to link and align smart city strategies with sustainable energy and climate action processes and targets, and highlighted existing information and resource repositories for financing and implementation of smart city practices. After presentations from cities involved in successful EU smart city projects such as GrowSmarter and Ruggedised, an open discussion provided room for questions and debate about the challenges and opportunities that smart strategies bring for low carbon and climate resilient development in cities.
Agenda
Welcome and URBAN LEDS II EU Project Update (10 min) Alis-Daniela Torres (ICLEI Europe)
Smart City Initiatives and Success Stories in Europe (20min) Alis-Daniela Torres & Esben Pejstrup (ICLEI Europe) – View Presentation
EU SSC Lighthouse Cities – Successful practices (20 min) Mika Hakosalo (Smart Cities Site Manager, Stockholm) and Christine Downie (Project Officer- City Energy, Glasgow City Council) – View Stockholm GrowSmarter Presentation and Glasgow Presentation
URBAN LEDs Cities strategies on smart cities and low carbon development (20 min) Micheál Lyons (Climate Action Unit, Cork City Council) and Nicolaie Moldovan (City Manager, Municipality of Alba Iulia) – View Cork City Council Presentation and Alba Lulia Smart City Presentation
Open discussion Q&A (15 min)
AOB (5 min)
Access the full Webinar Recording

Innovative Financing Mechanisms
Thu, Jan 23, 2020 9:30 AM – 11:00 AM CET
While traditional forms of municipal finance retain their importance, the role of new financial instruments and the engagement of the private sector become vital. As experience shows, even when creditworthiness is not an issue, most of local and regional governments are either not aware or are afraid of using unconventional tools of financing. This third webinar of the IUC financial series aims to give an overview on innovative financing mechanisms, inviting city speakers to share their experience.
Click on this link to access all the webinars of the IUC Webinar Series
Access the full Webinar Recording

Nature Based Solutions in Cities
Tue, Feb 25, 2020 | 15:00 CET
Dealing with a changing climate and ongoing urbanization including loss of forest and natural land; there has been a further call for nature-based solutions in the development of urban areas. For achieving a healthy and livable city we need to consider a city that provides ecosystem services and a healthy natural environment, thereby offering a range of social, ecological and economic benefits. After all, as people we are part of urban ecosystem or "ecopolis". This webinar discussed:
The city in its natural landscape.
What are nature-based solutions?
Water-Sensitive urban design.
Nature-Base Solution for developing climate resilient pathways.
Applications in practice: case of Sao Paulo.
Click here to access the Nature-based Solutions in Cities Webinar
Brought to you by ICLEI – Local Governments for Sustainability, the World Resources Institute (WRI) and the United Nations Environment Programme (UNEP), under the United Nation's Sustainable Energy for All (SE4ALL) Initiative.
Combining Building Efficiency and District Energy for More Sustainable Cities: A SE4ALL Webinar
Webinar Agenda and Presentations:
1. Welcome and Introduction of SE4ALL Energy Efficiency Accelerators
– Maryke van Staden, Low Carbon Cities Program Manager, ICLEI World Secretariat
– Lily Riahi, Advisor on Sustainable Energy in Cities, Energy, Climate and Technology Branch, UNEP
2. The building efficiency and district energy relationship and opportunities for action in cities: Building Energy Accelerator and District Energy in Cities
– Ingo Wagner Ingo Wagner, Policy and Project Officer, Euroheat and Power
3. Warsaw's building efficiency and district energy activities
– Leszek Drogosz, Director of Infrastructure Department, City of Warsaw, Poland
– Marcin Wróblewski, Infrastructure Department, City of Warsaw, Poland
4. Dubai's building efficiency and district energy activities
– Samer Khoudeir, Chief Sales & Marketing Officer, Empower
Full System Accounting of Energy Efficiency in Buildings – A SE4ALL Webinar
Webinar held on November 3rd, 2015 at the ICLEI World Secretariat
Facilitator:
Maryke van Staden, Low Carbon Cities Program Manager and Director of the carbonn Center
Speakers:
– Lily Riahi, Advisor on Sustainable Energy in Cities, UNEP
– Shannon Lawrence, Director of Global Initiatives, C40 Cities Climate Leadership Group
– Eva Hoos, Policy Officer, DG Energy, European Commission
– Sean Pander, Green Building Manager, City of Vancouver
– Astrid Madsen, Sustainability Programme Advisor, City of Rotterdam
Solutions Gateway and Pool of Experts Webinar
Webinar held on 22nd of March, 2016, at the ICLEI World Secretariat.
Facilitator:
Ana Marques, Senior Officer, Low Carbon Cities
carbonn® Center – Bonn Center for Local Climate Action and Reporting, ICLEI – Local Governments for Sustainability
Speakers:
Agathe Cavicchioli, Junior Officer, Low Carbon Cities, ICLEI
Chang Deng-Beck, Project Officer, Low Carbon Cities, ICLEI
Guest Speakers:
Session1: Lighea Speziale, Scientific and Technical Officer, Confederation of European Waste-to-Energy Plants
Session2: Gabriela Otero, Coordinator, Technical Department, ABRELPE
Green Bonds for Cities in the South Webinar
Webinar held on October 29th, 2015, at the ICLEI World Secretariat
Facilitator:
Chang Deng-Beck, Project Officer, ICLEI – Local Governments for Sustainability
Speakers:
Padraig Oliver, Climate Policy Institute
Viola Lutz, South Pole Group / Carbon City Lab