Urban-LEDS cities speak about their LEDS and experience with the project
Urban LEDS II closing event Local Climate Action, Financing and Multilevel Cooperation 
Four years of Urban-LEDS II in Indonesia
Urban-LEDS II Pilot Project in Cipaku Bogor City
Urban-LEDS II stakeholders share their perspectives on the project
Urban-LEDS II Pilot Project in Bogor City
Urban-LEDS II Pilot Project in Balikpapan City
Urban-LEDS II Pilot Project in Rwanda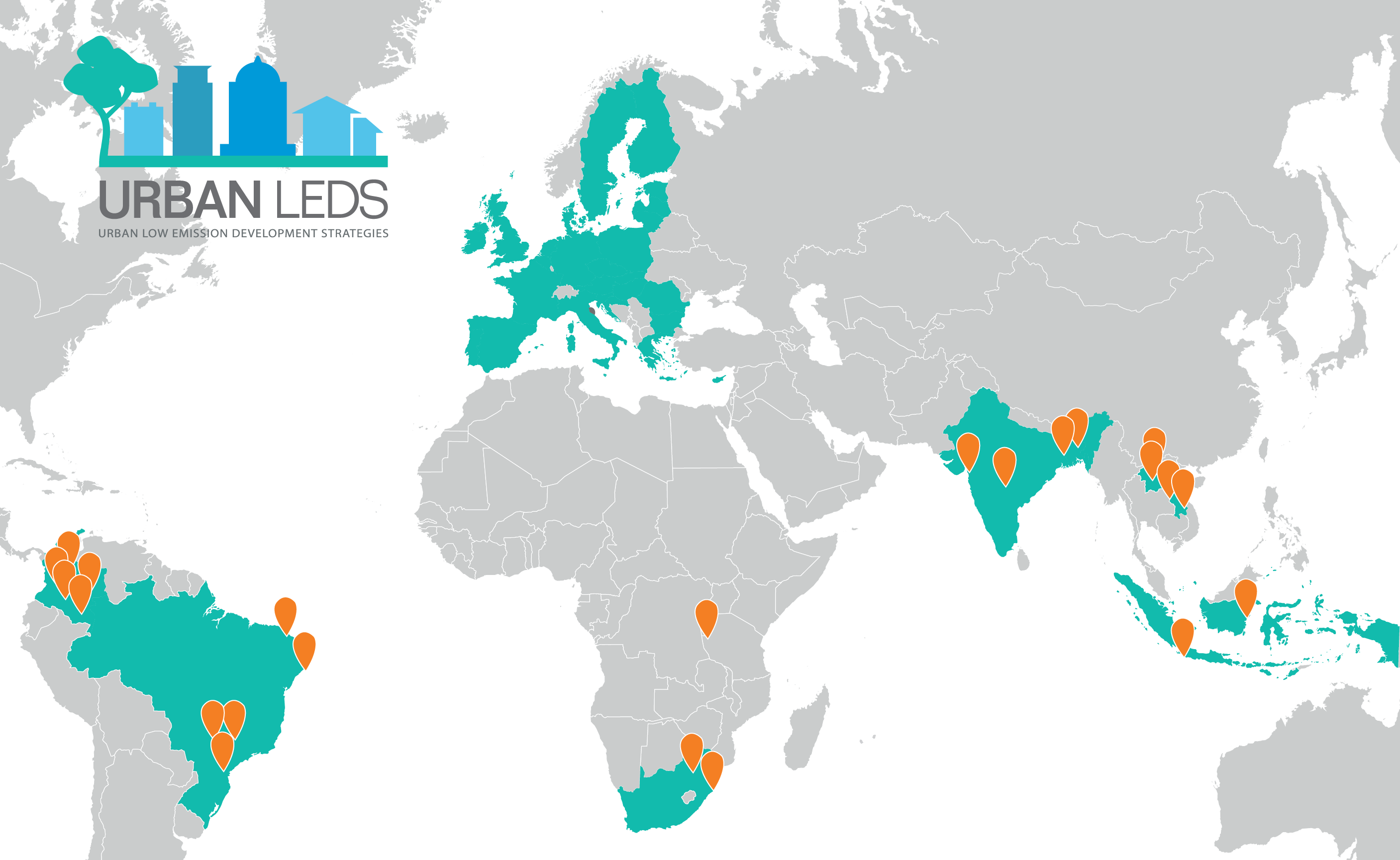 Urban-LEDS II project countries and satellite cities
Belo Horizonte, Brazil, on their experience with Urban-LEDS (2021)
Kigali, Rwanda, on their experience with Urban-LEDS (2021)
Nagpur, India, on their experience with Urban-LEDS (2021)
Envigado, Colombia, on their experience with Urban-LEDS (2021) – Spanish
KwaDukuza, South Africa, on their experience with Urban-LEDS (2021)
Betim, Brazil, on their experience with Urban-LEDS (2021) – Portuguese
Helsinki, Finland, on their experience with Urban-LEDS (2021)
Bologna, Italy, on their experience with Urban-LEDS (2021)
Sorocaba, Brazil, on their experience with Urban-LEDS (2021)
Topaga, Colombia, on their experience with Urban-LEDS (2021) – Spanish
Narayanganj, Bangladesh, on their experience with Urban-LEDS (2021)
Balikpapan, Indonesia, on their experience with Urban-LEDS (2021) – Bahasa
Rajshahi, Bangladesh, on their experience with Urban-LEDS (2021)
Pakse City, Lao PDR, on their experience with Urban-LEDS (2021) – Bahasa
Urban-LEDS interview with Luis Tejero Encinas, Engineer – Directorate of Sustainability and Environmental Control, City of Madrid
Urban-LEDS interview with Valentina Orioli, Deputy Mayor – Urban Planning, Real Estate, Environment Preservation and Renewal of the Historic City, City of Bologna
African Urban LEDS cities focus on energy solutions
Urban-LEDS interview with Anni Sinnemäki, Deputy Mayor of Helsinki
Urban-LEDS interview with Marta Bugaj, Head Economic Unit of the Infrastructure Department, City of Warsaw
Urban-LEDS interview with Matheus Schuch –  Sustainability and Climate Change, Municipal Secretariat of Urbanisation and Climate Change, City of Fortaleza
Urban-LEDS interview with Maria Daniela Garcia Patarroyo, Advisor on International Relations, City of Ibague
Steven Bland (Project Coordinator) Introducing Urban-LEDS (English)
Video series: Climate Finance Insights for Cities
Climate Finance Insights for Cities with C40 Cities Finance Facility
Jessy Appavoo, Regional Engagement Manager, Africa, C40 Cities Finance Facility
La question du financement climatique pour les villes avec le FMDV
Jean François Habeau, Executif chez FMDV, Financement et investissement des villes et du développement urbain
Climate Finance Insights for Cities with the Development Bank of Southern Africa (DBSA)
Olympus Manthata, Head: Climate Finance at Development Bank of Southern Africa (DBSA)
La question du financement climatique pour les villes avec le AFD
Sébastien Carreau, Energy project manager chez Agence Française de Développement (AFD)
Climate Finance Insights for Cities with ICLEI – Local Governments for Sustainability
Eszter Reka Mogyorosy, Manager: Innovative Finance, ICLEI – Local Governments for Sustainability, World Secretariat
Urban-LEDS champions at international fora
UNFCCC interview with Mr. Geraldo Julio de Mello Filho, Mayor of Municipality of Recife, Federative Republic of Brazil (Portuguese with English sub-title)
Urban-LEDS I and related insight videos
Introducing Urban-LEDS (English / animation)
Introducing the GCC methodology (English)
Introducing Urban-LEDS (Portuguese)
Introducing the GCC Methodology (Portuguese)
An introduction to the carbonn Climate Registry (cCR)
From Vision to Action Plan: Raising the Global Level of Ambition through National and Local Climate Action
Join the Global Covenant of Mayors for Climate & Energy (GCoM) – Mar 2017
Compact of Mayors: the World´s Largest Coalition on Local Climate Action and Towards Sustainable Development Goals/ HABITAT III
Launch of the Global Protocol for Community-Scale Greenhouse Gas Emission Inventories (GPC) – a COP20 Side Event Coverage by IISD
Introducing the GCC Methodology (Portuguese)
Urban-LEDS I Cities on their LEDS experiences
Doornkop Community, South Africa: Showcasing Sustainable Solutions
Come Discover KwaDukuza Municipality! (video)
ICLEI Africa – Urban Low Emission Development
Urban-LEDS I Cities present their Transformative Actions Program (TAP) Projects
Recife TAP Project (1) Mayor Geraldo Julio of Recife, Brazil speaks about Recife's
Recife TAP Project (2) Alberto Feitosa, Sanitation Secretary of Recife speaks about the Mapping Project of Informal Settlements in Recife City.
Águeda Muniz, Municipal Secretary of Urban Development and Environment in Fortaleza, explains how the afforestation plan will benefit the city.
Commissioner Vijay Nehra of Rajkot, India speaks on citizen action to advance local sustainability initiatives.
Mayor Gustavo Fruet of Curitiba presents the city's the Sustainable Village project.
Low Emissions Development in Cities Worldwide
City of Tshwane, South Africa: recent city initiatives, barriers, opportunities and next steps after COP21 by a city that has a clear political interest in exploring the 100% renewable energy pathway.