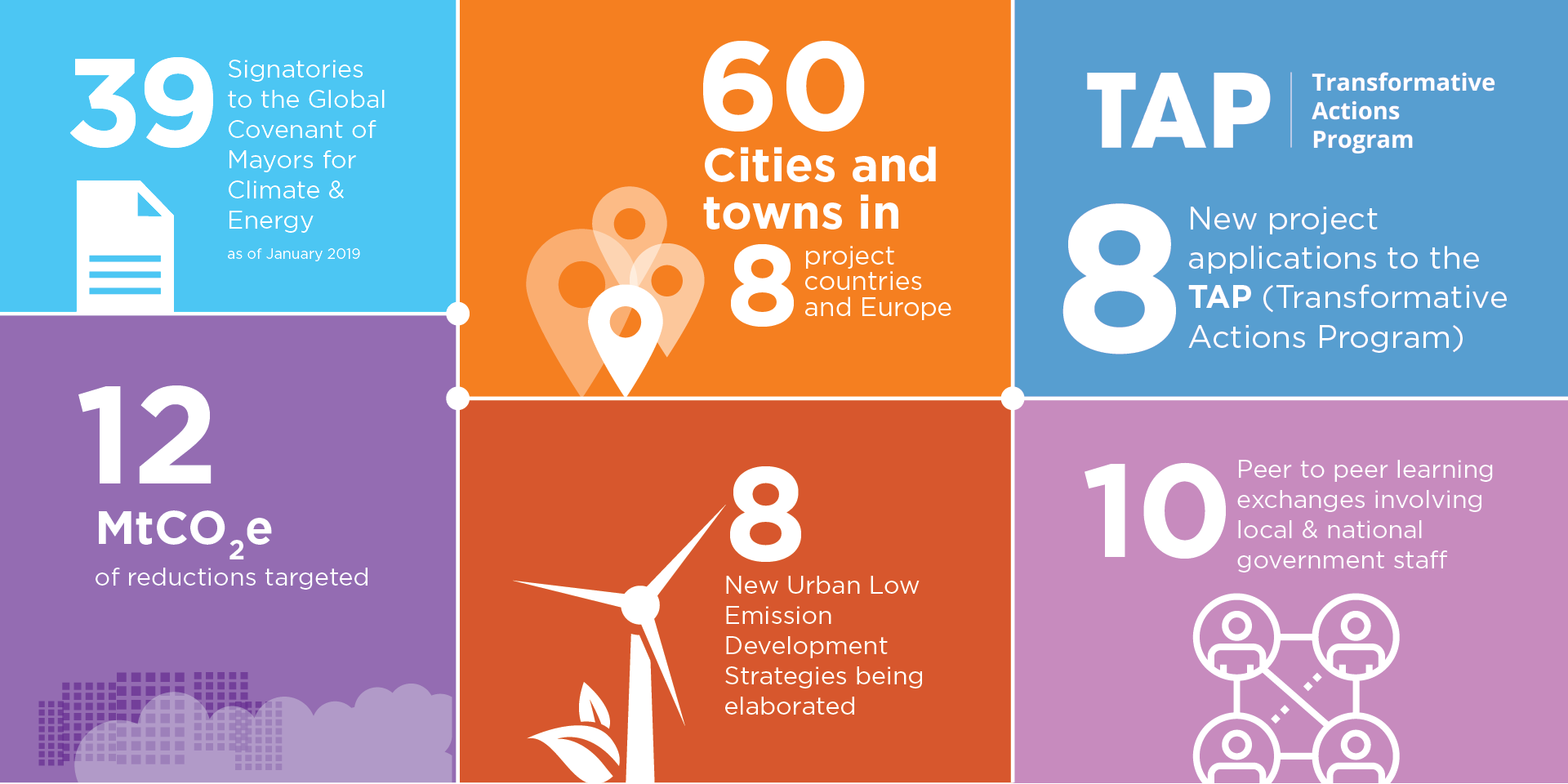 To keep abreast of the latest developments in phase II, make sure to check out:
Read the project newsletters:
The Urban-LEDS project has expanded, with new local governments joining the project in 4 new project countries: Bangladesh, Colombia, Lao PDR, and Rwanda.
In 2018, the in-country project focus was on establishing key relationships with national government ministries, project cities and other stakeholders, formalised through the creation of National Project Advisory Groups. The current systems of climate finance, reporting and governance have been analysed in four countries, and pilot activities to strengthen multi-level governance identified. Local governments have been welcomed into the project, their current situations mapped, and needs and opportunities identified. Initial pilot projects have been identified and staff training and capacity building has begun.
See the country and city profile pages to find out more about the project countries and cities.
Globally, project partners have showcased Urban-LEDS and its core messages on multi-level governance and finance at various international events, including submitting a paper to the UNFCCC in collaboration with GIZ. The project is in discussions with international finance partners, also in collaboration with the Global Covenant of Mayors for Climate & Energy (GCoM), to push for increased availability of finance for Urban-LEDS local governments.
In 2019, city-level project implementation is accelerating. New data to inform decision-making is being produced in the form of greenhouse gas emissions inventories and climate risk & vulnerability assessments. Pilot implementation projects will be scoped and project proposals for larger climate projects will be developed. Local government officials will get the chance to meet each other during a study tour to European cities; the Urban-LEDS event highlight of 2019.
Current project status (as of March 2019)
Number of participating local governments: 67
Number of municipal official attendees at Urban-LEDS capacity development/networking events: 58
Number of national government officials engaged with Urban-LEDS project and its local governments: 25+
Number of Talanoa Dialogues held in project countries:
Climate actions reported to the carbonn Climate Registry: (Miriam please see my previous email on this – and confirm if we are in agreement)
Project proposals submitted to the Transformative Actions Program (TAP): 18
New project city signatories to the GCoM: 10