After five days of activities touching on issues ranging from human settlements to transport to energy, the Global Climate Action (GCA) program at COP23, the 23rd United Nations Climate Change Conference in Bonn, closed with a high-level ceremony, where the key outcomes were presented.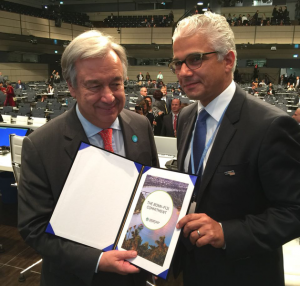 Ashok Sridharan, Lord Mayor of Bonn, co-host of the Climate Summit of Local and Regional Leaders and First Vice President of ICLEI – Local Governments for Sustainability, spoke on behalf of the local and regional governments constituency: "Hundreds of local and regional leaders from more than 60 countries and all levels of government – 1,000 participants in total – have adopted the Bonn-Fiji Commitment, last Sunday, at the Climate Summit of Local and Regional Leaders. With the Bonn-Fiji -Commitment we express our willingness to be full partners in the process to come – before and beyond 2020," said Mayor Sridharan.
At the ceremony, Mayor Sridharan also delivered the Bonn-Fiji Commitment of Local and Regional Leaders to Deliver the Paris Agreement At All Levels to António Guterres, the UN Secretary General. "Local and regional climate action will help close the gap between existing national commitments and needed reductions," said Mayor Sridharan. "This is a promise."
This presentation of the Bonn-Fiji Commitment shows how local and regional leaders are reinvesting in the Paris Agreement and engaging with the Marrakech Partnership for Global Climate Action, the platform to engage climate stakeholders and showcase their actions.
The presence of local and regional governments at COP23 has demonstrated that subnational action is a driving force in tackling climate change, and that local and regional governments are critical players in the grand coalition for climate action – a term joined by the Fijian COP Presidency to encourage all actors to unite in Bonn and beyond.
The call to action is strong: Nicola Sturgeon, Prime Minister of Scotland, made clear that climate justice and early action need to guide the next steps of climate action globally and especially at the level of local and regional governments.
"We must now urgently meet the specific requirements of the Paris Agreement. This entails not only more ambitious goals in the next two decades, but also immediate action in the next two years. Addressing climate change is a moral obligation," said Sturgeon.
Momentum is building, and climate stakeholders are coming together to implement innovative solutions and strategies. The five-day program of events at COP23 demonstrated how cities, regions, businesses, and investors are working, in partnership with nations, to implement the Paris Agreement.
Salaheddine Mezouar, Minister for Foreign Affairs and Cooperation of the Kingdom of Morocco and President of COP22 summed it up: "The organizations who are contributing to the Marrakech Partnership for Global Climate Action are the real guardians of the Paris Agreement."
His words were echoed by Frank Bainimarana, Prime Minister of Fiji and COP23 President: "This partnership for climate action was forged in Marrakech. We are now going to take it forward. Further, faster, together."