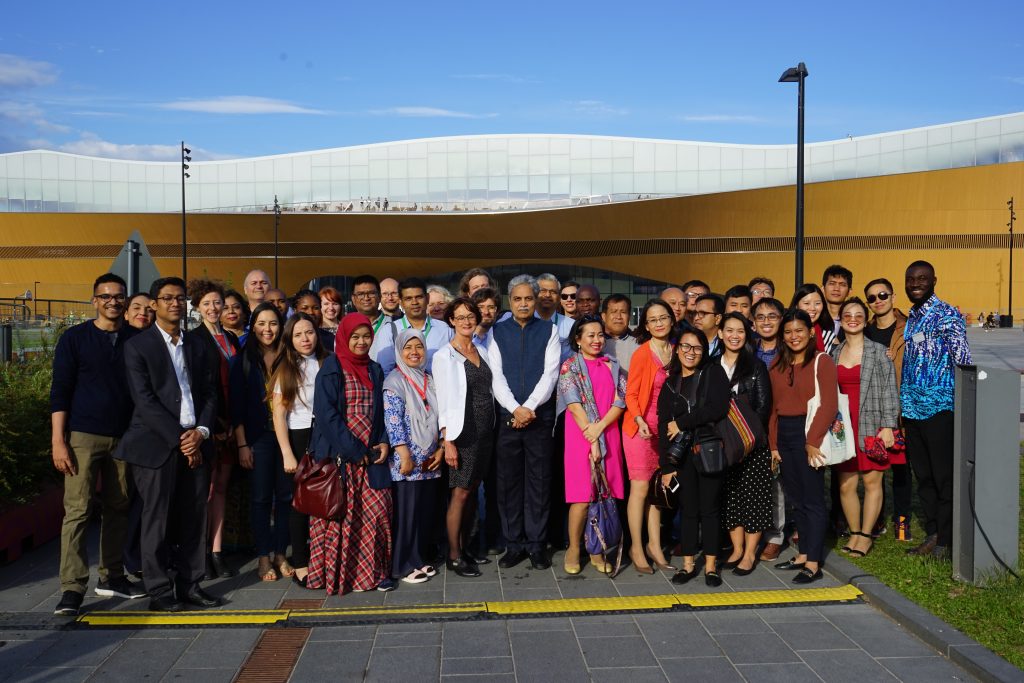 Peer-to-peer exchange is integral to the acceleration of local climate action as through the ensuing learning and reflection, local governments – as key stakeholders – exchange experiences, good practices, but also frankly discuss failures and challenges, and how to overcome these. The Urban-LEDS project continues to leverage the essence of peer-to-peer exchanges among the project cities as a vital component of the process towards integrated low emission and resilient development.
In its first phase (2013-2015), the Urban-LEDS project held two international exchange seminars, respectively in 2013 (Nelson Mandela Bay, South Africa) and 2015 (Bogor, Indonesia). In the second phase (2017-2021), the EU study tour (in picture above) in 2019 provided a great opportunity to learn but also exchange experiences between project cities. This was followed in 2020 with Urban-LEDS focused thematic sessions and other virtual workshops addressing local energy transition, sustainable mobility, urban resilience and climate finance among others, within the margins of Daring Cities 2020, Mannheim 2020 and LoCS4Africa 2020 conferences.
In 2021, the Urban-LEDS International Networking Seminar which took place virtually over 2 days, on 28 and 29 July presented yet another outstanding opportunity for the project cities' exchange, before the final wrap up of the project in December 2021. The seminar saw participation from all the 8 project countries across the globe and from the European Union featuring a high-level opening plenary that set the scene for an enriched discussion with contributions from representation of the European Commission and mayors of the project cities. Multilevel governance is an integral part of Urban LEDS and this was reflected in a closed session with national government representatives as well as in a webinar on multi level governance. Highlights from the different project countries were presented through the four regional sessions, while exchanges on climate financing and relevant tools took center stage in a designated marketplace and climate finance tools sessions. Below is a short summary of each session.
Opening plenary
In his keynote speech Mr Lars Gronvald, Head of Section, Urban Development, Directorate General for International Partnerships of the European Commission acknowledged the key role of local governments as drivers for climate action, the importance of international partnerships to deliver on the target of the Paris Agreement and the commitment of the European Union to continue supporting cities in their journey toward a low carbon future. In this context, Mr Gronvald highlighted that Urban LEDs has been a pioneering project giving municipalities the central role in defining climate policies at the local level and beyond.
The discussion then opened up to a mayoral roundtable where the Mayor of Bogor City, the Mayor of Kaysone Phomvihane City, the Vice Mayor of Rubavu District and the Vice Lady Mayor of Recife participated. All the mayors discussed the learnings and benefits of joining the Urban LEDS project and their current engagement as well as sharing plans to accelerate climate action even further. Maryke van Staden, Director of ICLEI's Bonn Center for Local Climate Action and Reporting, called for the need to upscale what has been initiated via the project. To do that it is critical to work toward a better vertical integration across different levels of governance and to ease the access to funding, she emphasised.
Inspiring video contributions from all Urban LEDS regions were played.
Multilevel governance session
The session focused on Multilevel governance for urban climate action. The case of Rwanda which illustrated how the national regulatory framework for climate action and urban planning coherently informs urban plans and the recent NDCs update and implementation framework was presented.
The case of uMhlathuze presented an interesting example of vertical and horizontal cooperation, whereby collective accountability is obtained, regardless of specific mandates of the entities involved. Intergovernmental cooperation in uMhlathuze lays the basis for grounding national policy at the local level, a theme that also featured in the case of Colombia, where the new National Urban Policy relies on strengthening capacity of local governments to deliver climate goals, in view of governance decentralization. Another common theme emerged from the uMhlathuze and the Colombia cases, regarding local resource mobilisation: Climate Budget Tagging (uMhlathuze) and Land Value Capture (Colombia) were discussed. The case of Belo Horizonte has shown how the city has substantially drawn on international networks and initiatives (e.g. Urban-LEDS, but also the Race to Zero and the run up to COP26) to overcome the current divergence in priority setting with national level institutions.
The importance of a multi-level approach to urban governance in order to effectively address climate change, as well as diverse and interesting examples of how to achieve it, clearly emerged from all the presented experiences.
National Government session
This session also promoted peer-to-peer learning among National Governments of Urban-LEDS project countries. Speakers from UN-Habitat presented global frameworks and approaches to integrating climate change in national urban-related policies, and vice-versa, integrating urban issues into climate policies. Representatives from Bangladesh, South Africa, Colombia, Indonesia and Rwanda introduced their national mechanisms relating to Urban Planning Law, NDCs, Local Government Support Programmes, Carbon Pricing and Tax, Climate and Gender Responsive Budgeting, and more.
Below are some key takeaways of the discussion:
Limits on Mandates are often the barrier to effective integration and can result in an unbalanced focus on adaptation;

Ministries should mainstream DRR (Disaster risk Reduction) measures; integrating climate in DRM (Disaster Risk Management) is urgent as well;

A variety of financing mechanisms and budgeting practices can support mainstreaming gender and climate, a commitment to which Urban-LEDS should build and sustain.
Regional Sessions
South Asia Regional Session
The session highlighted interventions & learnings from 4 'model' cities in India & Bangladesh. The session aimed at promoting sub-national climate agenda and sharing knowledge on ways & means to integrate low carbon and climate resilience measures in local urban planning & processes.
Speakers representing city officials, national governments representatives, and other experts presented and discussed best practices in climate action planning, implementation of priority pilot projects and supporting climate action through effective multi-level governance.
Below are some key takeaways from the session:
Climate efforts should not be limited to big cities but should permeate to smaller cities and towns in India & Bangladesh. The results and learning of the project should be showcased and shared with other cities in the region in order to help them plan, adopt and transition towards low emission and climate resilient development.

Model cities have shown interest in possible scale up of successful pilots (implemented under the project) and requested for sustained technical capacity and resource provision through initiatives similar to Urban-LEDS II.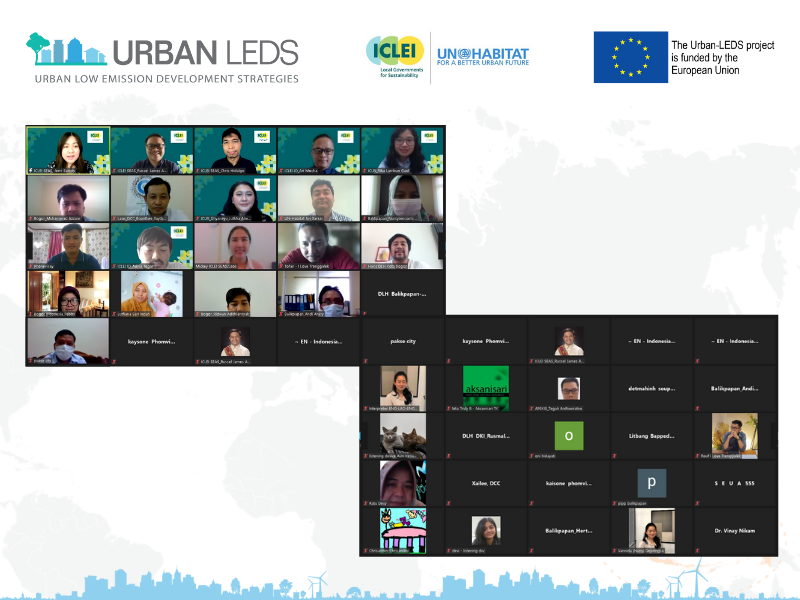 South East Asia Regional Session
The aim of the session was to highlight key learnings in the implementation of the Urban-LEDS II Project in Indonesia and Lao, particularly in the process of carrying out respective GHG inventories, CRVAs, and Climate Action Plans. Government representatives from the two countries spoke on each model cities' experiences and it was stated that there is a need to strengthen their institutional capacity for effective planning and implementation to fully realize and sustain the project's objectives.
The session concluded with an acknowledgement of the cities' buy-in to the project and the importance of stakeholder collaboration and participation, especially within local government, to accelerate climate action.
African Regional Session
The session focused on the progress and achievements made with Urban LEDS II in two South African model cities and three Rwandan model cities, over the past 4 years. It was highlighted that the success of the project in these two countries would offer a blueprint for other similar projects throughout the continent.
It was further stated that some barriers such as lack of technical and fiscal capacity in local and regional governments need to be addressed to attract private and international financing. Guest speakers from Rwanda and South Africa also emphasized the importance of stakeholder collaboration which was key to the project success.
South American Regional Session
This session presented the main results of the project in the South American cities with the aim of sharing the key lessons learned within this process. Speakers from the national governments of Brazil and Colombia shared their approach to integrate the climate agenda in National Policies. The Ministry of Regional Development of Brazil, presented the National Urban Development Policy, demonstrating the transversality of the climate agenda. Two Municipal Secretaries of Environment who represented the local level stated the challenge of governance and institutional strengthening.
Technical focal points of the project pointed out several learnings and contributions provided in the past four years, highlighting enhanced multi-stakeholder partnerships and training that increased technical knowledge of the teams.
Marketplace sessions
In the two marketplace sessions, the project cities of Rajshahi, Nagpur, Helsinki, Narayanganj, Thane, Bogor, Balikpapan, Almada, Tangerang and Rio de Janeiro had the opportunity to pitch the innovative approaches they are putting in place to speed up low carbon development. Whether long-lasting successful measures, brand new pilots or bold plans, the pitches covered a wide range of topics ranging from sustainable public transports to building renovation, from water treatment systems to air quality-monitoring touching also upon tourism, inclusivity and innovative techniques of engagement. City representatives had the opportunity to share experiences, inspire each other as well as collect feedback and suggestions. Both events were enriched by the contribution of the World Bank which provided insights on the GAP Fund. The Bankability Scorecard developed by ICLEI Africa experts was also presented in one of the sessions.
Climate Finance Session
This session covered different climate finance tools developed by four ICLEI Offices – ICLEI World Secretariat, ICLEI Africa Secretariat, ICLEI South America Secretariat and ICLEI Southeast Asia Secretariat – aimed at equipping Local and Regional Governments (LRGs) with the tools and techniques to enable access to finance and implement bankable projects. These tools include: Innovative Finance Toolkit, Bankability Scorecard, LEDs Lab & the Country Climate Finance Mapping.
The session focused on different approaches LRGs could use to identify and assess Climate Finance Opportunities, as well as activities to improve their internal processes for defining and structuring revenue generating projects. The speakers highlighted the crucial role of collaboration between public and private sector stakeholders in securing funding for the projects.
Conclusion
With the Urban-LEDS II project now coming to an end, the International Networking Seminar provided a perfect opportunity to share success stories of the participating cities and the respective local and national government representatives were further enabled to reflect on progress made during the last 4 years of project implementation. It is clear that through the seminar, the value of enhancing city to city relationships and potential (new/continued) partnerships have been added to the ending project, while acknowledgement of the importance of dialogue between local and national governments involved in the project can not be overemphasized. This is part of Urban-LEDS' legacy which the seminar has successfully helped highlight and future priorities identified for joint collaboration among peer local governments and between their respective national governments are expected to be taken forward, guided by the Urban-LEDS experience.
Meanwhile the following are worth mentioning as other interesting opportunities to help continue peer exchange for local climate action:
Daring Cities 2021

, 4-8 October, 2021

Urban October with World Habitat Day (4 October – on mitigation) and World Cities Day (31 October – on adaptation and resilience);

Innovate4Cities Conference

– 11 to 15 October 2021;

COP26: focus on NAPs and cross-sectoral approaches.