Urban-LEDS II Project supported the Ministry of Environment and Forestry in conducting a focus group discussion to test the methodology for landfill gas (LFG) recovery in Balikpapan City's Manggar Sanitary Landfill. The discussion around data availability in the waste sector strengthened the City's capacity to use landfill gas – particularly methane – from the facility for implementing the Indonesia Certified Emission Reduction (ICER) mechanism.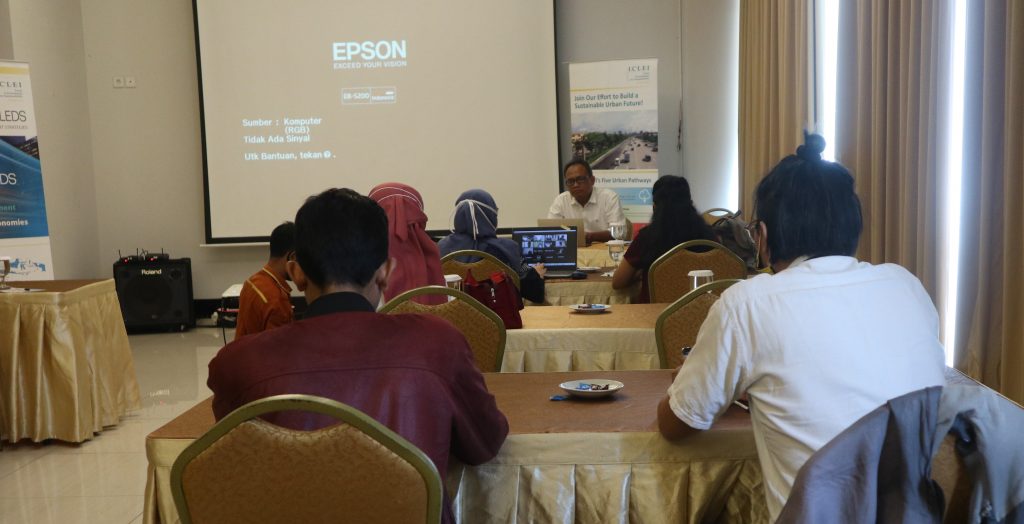 The Directorate of Greenhouse Gas Inventory & MRV, Ministry of Environment and Forestry (MoEF), in partnership with ICLEI SEAS and the Government of Balikpapan City, convened stakeholders on 6 August, 2020, in Sentul Hotel, Bogor City, to discuss measures to improve the energy generation capacity of the Manggar Sanitary Landfill. Representatives from the Environment Agency of DKI Jakarta Province and Bogor City, and the Center for Ecoregion Control and Development Kalimantan Area also participated in the activity.
Manggar Sanitary Landfill power capacity
Head of Balikpapan City's Environment Agency Mr. Suryanto shared that the sanitary landfill uses a waste-to-energy process, turning methane gas from solid waste into electricity. Operating since 2012, the methane power plant is based on two reused cars which lower the facility's operational cost. The first car can produce 25 kW while the other generates 15 kW. The electricity produced is used to power neighborhood street lights.
The environmental agency head mentioned that Balikpapan City lacks the capacity to report its current climate mitigation actions through the National Reporting System (NRS) due to limited data. Procuring measurement equipment in the next fiscal year is eyed to address data limitations.
Indonesia's international commitments
The Government of Indonesia (GoI) has committed to a 29% GHG emission reduction through national means and 41% reduction upon the provision of international support, against the business-as-usual (BAU) scenario by 2030. In its first Nationally Determined Contribution (NDC), target GHG emissions reduction from the waste sector is 11 million tCO2e or 0.38% of its total BAU.
Director Syaiful Anwar of GHGI & MRV – MoEF discussed the challenges in the implementation of sanitary landfills due to limited activity and site data for monitoring purposes. "The availability and quality of activity data vary at each site level. There is also a lack of understanding in selecting the appropriate GHG emissions reduction methodology and reporting quality does not often meet national standards." He commented that several mitigation actions at local level are not yet reported into the NRS.
DKI Jakarta Province shares best practice and knowledge
A model city under the Ambitious City Promises Project, DKI Jakarta Province also shared during the FGD its key climate mitigation actions to extend the lifespan of its Bantargebang Landfill. Through waste reduction, reuse, and recycling, LFG recovery, composting, offsite and onsite wastewater treatment, DKI Jakarta Province has reduced its GHG emissions by 63.954 tCO2e in 2018. Zone contouring, covers-soil landfill by using red-soil and geo-membrane are also beneficial for maintenance.
The LFG facility currently generates 3 MW of power due to limited resources but has a maximum generation capacity of 16 MW. DKI Jakarta Province highlighted that gas and kWh meters are critical equipment to increase accuracy and availability of activity data.
MoEF will organize a second FGD to dig deeper on the presented four modules on the LFG recovery methodology development and determine their applicability to the Manggar Sanitary Landfill.
Managed by DKI Jakarta Province in partnership with PT Navigat Organic Energy Indonesia, LFG recovery at Bantargebang Landfill has been registered under Indonesia's Clean Development Mechanism project with reference number 6486 in 2012.

Mr. Suryanto, Head of Environment Agency of Balikpapan City, showcased the planned and existing LFG pipeline networking. The facility already distributed LFG to 150 households in two sub-districts in context to replace LPG usage for cooking purposes.
More stories