ICLEI in its capacity as the Local Governments and Municipal Authorities (LGMA) constituency has led the successful adoption of the Bonn-Fiji Commitment of Local and Regional Leaders to Deliver the Paris Agreement at All Levels which was hailed as one the highlights of COP23 by the UNFCCC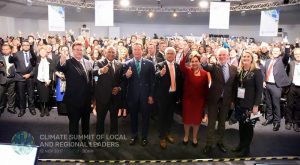 The succinct five takeaways from COP23 that ICLEI analysed are as follows:
COP23 demonstrated that the momentum for the Paris Agreement implementation remains strong.
COP23 confirmed the key role played by local and regional governments in bridging the emissions gap.
COP23 confirmed that through the Talanoa Dialogue, multilevel and multistakeholder partnerships will be strengthened.
COP23 laid the foundation for a successful completion of the Paris Agreement Work Programme by COP 24.
COP23 reaffirmed the importance of pre-2020 implementation and ambition.
ICLEI will continue to actively engage in the UNFCCC process in the lead up to COP 24 with a view to achieving the long-term temperature goal of the Paris Agreement led by cities and other subnational authorities.