From the port city of Balikpapan to the rainy city of Bogor, Lao cities learn about various urban low emission development strategies (urban-LEDS) implemented in Indonesia as part of a week-long peer learning activity organized under the Urban-LEDS II project.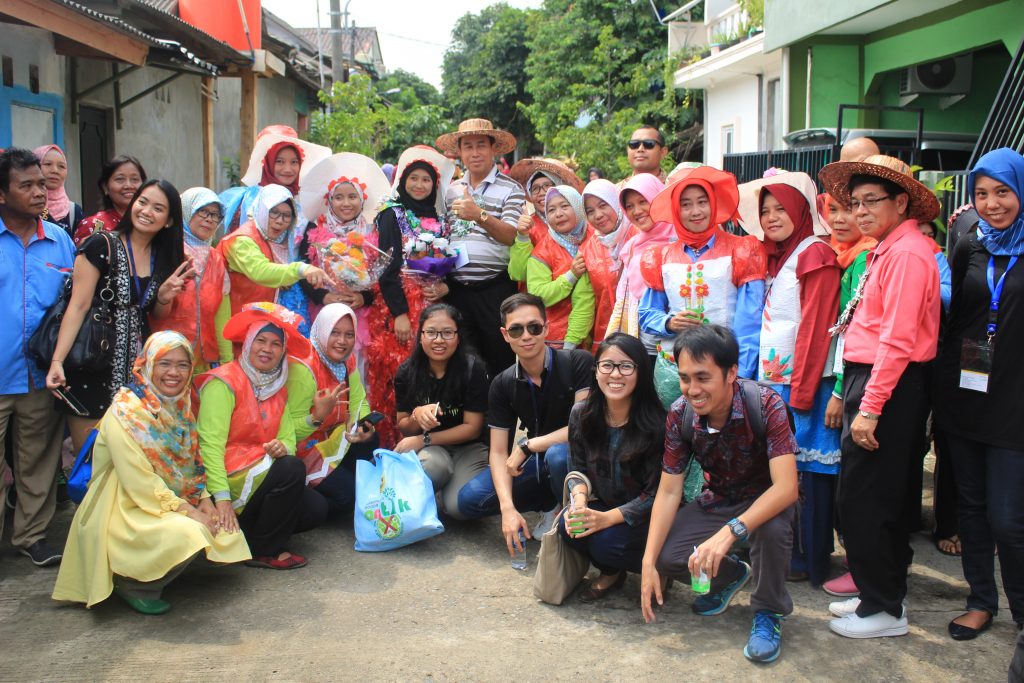 Model cities Kaysone Phomvihane and Pakse in Lao PDR visited two cities and one regency in Indonesia from April 21 to 28 and witnessed how urban-LEDS are implemented by different stakeholders including the local government, communities, and the private sector. The local governments visited were all project cities of the Urban-LEDS project.
Balikpapan City in Kalimantan Province was the delegation's first stop where they visited the city-owned Manggar Sanitary Landfill. Operating since 2012, the landfill has a waste-to-energy facility which turns methane collected from the waste into electricity. Currently, the facility provides electricity to around 150 households in Balikpapan.
The delegation also met with city officials led by Mayor Rizal Effendi. He highlighted that apart from waste management, Balikpapan pays close attention to cleanliness and greenery. The city maintains a botanical garden for conservation as well as educational and tourism purposes.
On the other hand, Bogor City in Java Province shared their effort to complete a greenhouse gas (GHG) emissions inventory to define their low carbon strategy. Mayor Bima Arya noted that the city focuses on developing green transportation by implementing different projects including improvement in pedestrian paths, conversion of small mini-van into small buses, and utilization of cleaner fuel. He also shared the city's goal of strengthening their waste management programs.
In Bogor Regency, participants saw how urban-LEDS is applied by the private sector and at the community-level. The team visited Indocement, a privately-owned facility which uses waste including rice husks, palm oil kernels, sawdust, and other municipal waste as an alternative fuel in cement production.
At the community-level, the environment-friendly village of Nanas, also in Bogor Regency, was showcased. Here, the delegation witnessed how people's empowerment can lead to collective climate action. Waste reduction initiatives including composting, upcycling, urban gardening, and making eco-bricks are led by the community members in Nanas.
During the activity's closing ceremony, Pakse City Mayor Mr. Soulivanh Sawathasine expressed gratitude to ICLEI and the host cities in Indonesia for this learning opportunity. He emphasized that the visit was a good way to identify what more can be done when they go back to Lao PDR. In particular, he was keen to look at how existing waste management practices in Indonesia such as methane capture, waste-to-energy can be applied in Lao PDR.
Representatives from the national government, the Ministry of Environment and Natural Resource (MONRE) as well as provincial governments of Champasak and Savannakhet in Lao PDR also joined the activity. Other Indonesian cities including DKI Jakarta, Bekasi, and Tangerang also took part in this exchange. ICLEI Southeast Asia works with these Indonesian cities under the IKI-funded, Ambitious City Promises project.
Urban-LEDS II is an international project implemented by ICLEI – Local Governments for Sustainability and UN Habitat with funding support from the European Commission. Under the project, ICLEI provides assistance to selected Lao cities in coming up with an integrated climate action plan that looks at both low emission development and climate resilience. This study tour is envisioned to help the Lao cities understand how cities in a developing country such as Indonesia have successfully integrated low-carbon considerations in their overall development planning and processes
Mr. Andi Irwan (far left) explaining the leachate treatment unit process of the Manggar Sanitary Landfill of Balikpapan City to the study tour participants.

The Vice Mayor of Kaysone Phomvihane, Mr. Bounnao Fongkhamdeng, and Mayor Sawathasine of Pakse City (first and second from left) are being taught by the women community leaders from Nana's village on how to make eco-bricks from water bottles and single-use plastics.