Bogor, Indonesia – The Program and Activity Plan between Yayasan ICLEI-Local Governments for Sustainability Indonesia and Bogor City was formally signed last 07 May 2019 in Kaulinan Sempur Park, Bogor, West Java. Mayor Bima Arya Sugiarto signed on behalf of Bogor City while Ms. Gina Karina, Country Manager of ICLEI Indonesia represented ICLEI.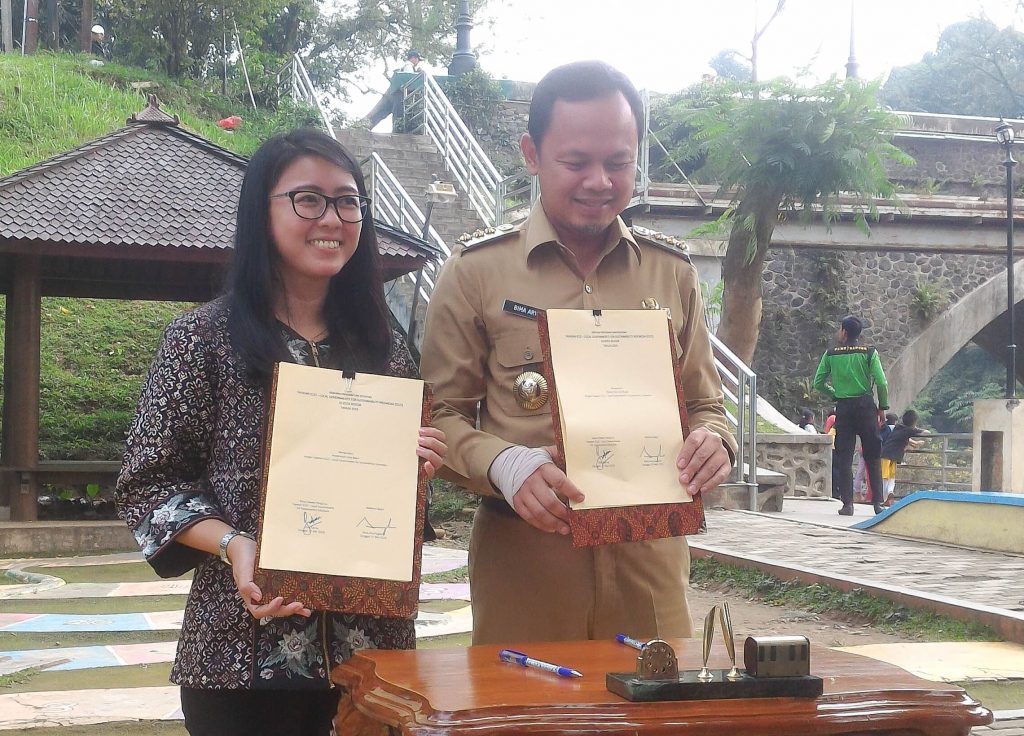 The plan outlines the contribution and roles of each party in the implementation of the project, "Accelerating Climate Action through the Promotion of Urban Low Emission Development Strategies" (Urban-LEDS II).
Funded by the European Commission, Urban-LEDS II is an international project is implemented by ICLEI – Local Governments Sustainability and UN-Habitat. The project aims to assist selected cities from emerging economies and least developed countries towards low emission and climate adaptive urban development. It is a continuation of the Urban-LEDS phase I project which ran from 2012 to 2016 where Bogor City served as the model city in Indonesia, alongside Balikpapan.
In his remarks, Mayor Bima emphasized the event's importance saying, "The signing of Program and Activity Plan and MoU is very important as it serves as a benchmark where we can determine a measurable target and context of our planned activities. It is like throwing an anchor; from there, we will see where we want to go and how to get there."
Ms. Gina Karina added that "We [ICLEI] also aim to provide support to the mayor in his role as ICLEI Board as Global Executive Committee (GexCom) for the Southeast Asia region and for the Low Carbon Cities portfolio."
Under Urban-LEDS II, Bogor City will develop an integrated climate action plan that outlines strategies to reduce greenhouse gas emissions and address resilience. The strategies will also be measured and reported to the national and international level. Mayor Bima said that Bogor City currently focuses on improving its waste management programs. "We request ICLEI's assistance in capacity building and infrastructure on waste management as well as assistance in developing better culture on how to adapt to the impacts of climate change," he added.
One of ICLEI's programs and activities this year is to enrich the adaptation and resilience component of the city's action plan by conducting science-based vulnerability and risk assessment. Furthermore, ICLEI continues to support the facilitation of inclusive and participatory dialogues with provinces and national government as well as to conduct of capacity building for city staff.
This activity was conducted simultaneously with the signing of Memoranda of Understanding (MoU) between Bogor and three other organizations namely Plastic Energy Limited, Clean Air Asia, and Yayasan Sayangi Tunas Cilik on environment-related projects.