For practical knowledge exchange on ambitious low-emission projects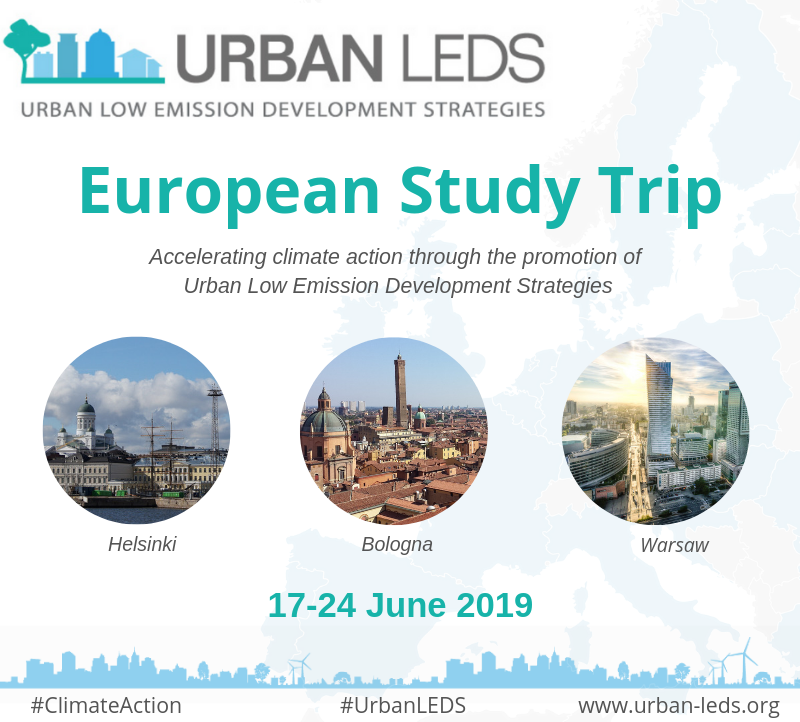 From 17 to 24 June 2019 Urban-LEDS European cities will host their counterparts from Bangladesh, Brazil, Colombia, India, Indonesia, Lao PDR, Rwanda and South Africa for a cross-Europe study trip to accelerate climate action through the development of Urban Low Emission Development Strategies.
In the spirit of the Urban-LEDS initiative, this study tour aims to bring together cities to learn from one another and to jointly explore how to plan and accelerate local low-emission development. Participating cities will visit some of the most innovative and ambitious low-emission projects undertaken in Helsinki (FI), Bologna (IT) and Warsaw (PL).
By exploring and exchanging first-hand on successes and challenges of a wide range of solutions and in a variety of sectors – including wastewater treatment, green districts, urban regeneration, energy efficiency in buildings, nature-based solutions, district energy and sustainable mobility measures – cities will be provided with new ideas and inspirations for developing their own climate and energy strategies.
The trip will kick off in Helsinki, an ambitious capital city aiming to become carbon neutral by 2035, by bringing emissions down across sectors through sustainable procurement as well as integrated cycling solutions. With a visit to the Kalasatama area, participants will explore an experimental innovation platform for the co-creation of smart urban infrastructure and services. After that, participants will travel to the former European Mobility Capital Bologna, to learn about its active citizens' participation and engagement approach in sustainable urban development. Public planners will get introduced to the city's efforts to transform its historic center into a creative and sustainable district. A final stop in Warsaw will offer the possibility to explore the Polish metropolis's energy efficiency and low-emission supply solutions, with a visit, among others, to the city's extensive district heating system to learn about its potential for lowering emissions.
Accompanied by energy experts, participants of this European tour will have a unique opportunity to learn from a wide variety of best practices and sustainability policies on how to drive local action for low emissions and shape new climate and energy strategies.
For more detailed information about the trip and its individual destinations and showcased projects, please click here.