The first technical training for Lao mayors on climate change and urban development was held in Pakse, Lao PDR. The activity aims to raise awareness on climate change and inspire commitments. It also aims to enhance common understanding of climate change and a need for climate change integration into local development plans.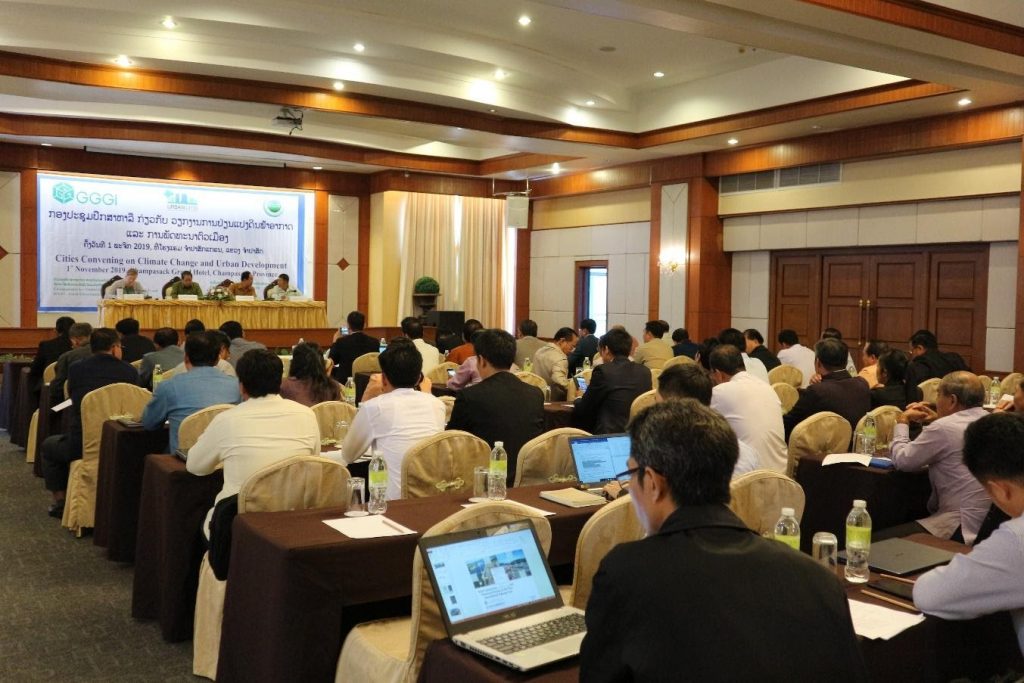 Pakse City, Lao PDR – ICLEI Southeast Asia Secretariat (ICLEI SEAS) through the Urban-LEDS II Project and the Global Green Growth Institute (GGGI), co-organized a capacity building workshop for local government officials in Lao PDR on 1 November 2019. The event was attended by over 60 representatives from the national, provincial, and city governments including Urban-LEDS II cities Pakse, Kaysone Phomvihane, Songkhone, Outhoumphone, Bachiangchaleunsouk, and Sanasomboun, as well as Vientiane capital and Luangprabang.

The workshop aimed to engage relevant stakeholders to raise awareness on climate change, emission reduction commitments, and enhance common understanding of climate change. Among the highlights of the event was the sharing of best practices towards integrating and mainstreaming climate change into urban planning and development.

Pakse City Mayor Soulivanh Sawathasine, co-chaired the event with Director-General of Climate Change Department, MONRE, Sangkhane Thiangthammavong, and Director General of PONRE Champasak Province, Soupany Silipounyo.

In his address, Mr. Sawathasine stated "There are so many challenges threatening Pakse cities…which is the sign of the climate impacts. One of the challenges we face is that we failed to protect the forest which is the key frontline to prevent us from climate change and disasters. The city is willing to cooperate with the relevant agencies to implement the [necessary] initiatives"

The Director-General also highlighted and shared his experience from the Urban-LEDS II Indonesia study tour, "I have learned a lot from the study tour regarding waste management and some climate model initiatives implemented in Indonesia cities as this shows the importance of the climate change work which is raised at the local level."

The training-workshops served as a venue not only to demonstrate how other cities are being affected by climate change but also to highlight the crucial role of local governments to contribute towards addressing climate change impacts. Further, in order to assist cities with their climate change initiatives the Green Climate Fund (GCF) Readiness Project on Enhanced Access to Green Finance was presented.

To provide an overview of mainstreaming climate change adaptation and mitigation into local development plans and processes, ICLEI SEAS presented the Green Climate Cities (GCC) as a climate action integration tool. It has three main phases which outlines how low-emission development strategies can be identified and integrated into urban development policies, plans, and processes. It also elaborated on how the GCC methodology can help prepare local communities to address the challenges and opportunities of urban growth, exploring their green economy and green infrastructure as implemented through the Urban-LEDS project.

A number of other tools and platforms were also presented during the workshop such as the Global Protocol for Community-Scale Greenhouse Gas Emissions (GPC), GHG inventory tools such as Clearpath and Heat+, Solutions Gateway platform, Pool of Experts, CDP-ICLEI Unified Reporting System as well as ICLEI's climate financing mechanism Transformative Actions Program (TAP).

To demonstrate the initiatives of other local governments and cities around the world to combat climate change, the Global Covenant of Mayors for Climate and Energy (GCOM) was also introduced. The Urban-LEDS II team also sought the interest from the City Mayors in attendance to become part of the GCOM network and actively take part in the global movement and spearhead climate action in Laos needed to cut GHG emissions and address climate vulnerability.