1,019 local and regional governments from 86 countries, representing 804 million people, have reported emissions reductions targets to the carbonn Climate Registry (cCR), one of the most widely used subnational climate action reporting systems in the world.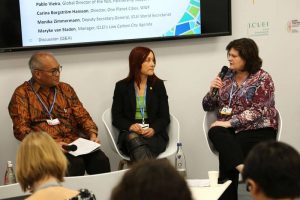 Once achieved, these targets would result in a reduction of 5.6 gigatons of CO2 equivalent (GtCO2e) by 2020 and 26.8 GtCO2e by 2050.
The just-released cCR report, Boosting subnational climate action through new climate governance, provides a snapshot of self-reported climate data from cities, towns and regions around the world. It makes the case for how climate reporting systems that coordinate national level climate plans and commitments can help nations more accurately track performance, monitor risk and formulate effective action to ultimately raising climate ambitions across the country.
Read the full report here.
About the cCR
The cCR is a global reporting platform for cities, towns and regions committing to climate action. The cCR promotes transparency, accountability and credibility of local and subnational publicly reported data. It is managed by the carbonn Center, hosted by ICLEI World Secretariat in Bonn, Germany.
Visit carbonn.org for more information.