Following the conduct of Climate Risk and Vulnerability Assessment, ICLEI Indonesia Office leads a series of focus group discussions with Bogor City to validate the reported climate risks and vulnerabilities of the city and explore measures towards developing an integrated climate action plan.
Jakarta, Indonesia – ICLEI Southeast Asia (ICLEI SEAS) in partnership with the Government of Bogor City held virtual Climate Risk and Vulnerability Assessment (CRVA) focus group discussion series, respectively on 11 and 20 May 2020. The discussions aimed to strengthen the substance of technical, social, and economic aspects that are inline with the national guideline, namely "Guideline of Climate Vulnerable, Risk and Impact" and "Guideline of the Development of Climate Change Adaptation Action". The discussion also shed light on how the city identifies strategies and effective steps in mainstreaming selected adaptation options into city development planning and budgeting. 
Exploring opportunities towards becoming an Ecological City 
The results of two global climate models, CSIRO and MIROC, with one type of climate change scenario, particularly RCP 4.5 show that there are changes in air temperature up to 1oC in 2021-2050. The increase of air temperature occurs in almost all regions of Bogor and the most vulnerable areas are in the Southern and Eastern. This condition is very extreme for certain vegetation in Bogor City. Moreover, the change in rainfall of -18% to 27% will occur respectively in Northern, Tanah Sareal District, Eastern, and Southern. It will give a negative impact on the water balance of the city in the future.
Known as a rainy and garden city, Bogor City must be prepared to face the potential risks of climate change impacts. Bogor City needs to have a contingency plan to respond and anticipate extreme conditions and how the community's readiness to adapt.
Following the CRVA results, "The water resources sector is a priority issue that can be intervened in the implementation of Bogor City climate resilience strategies upon based on the consultation of relevant stakeholders", said Mr. Perdinan, CRVA consultant, PI AREA. He further suggested that the selection of climate resilience strategies should be used as a development strategy for Bogor City towards an ecological city.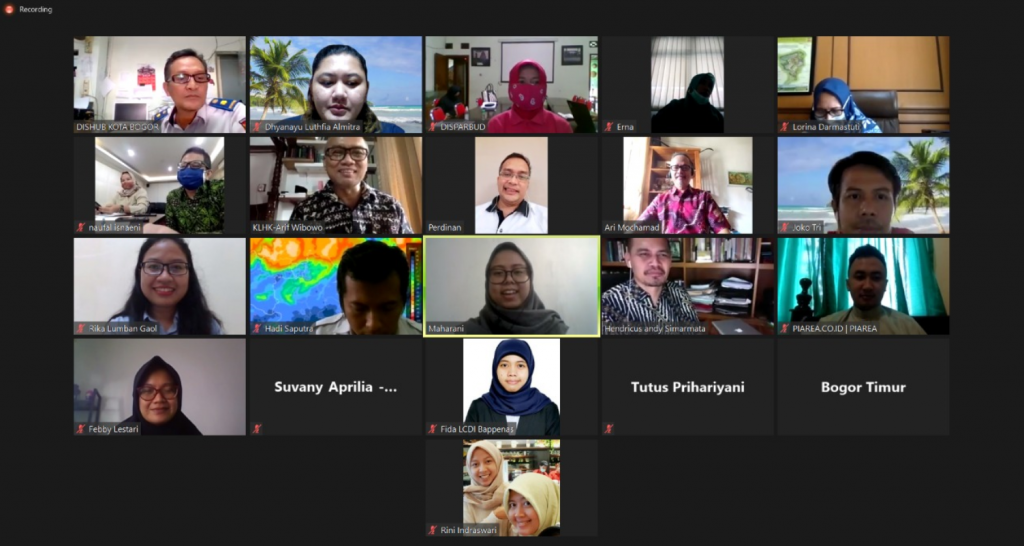 Supporting Indonesia's NDC Implementation
In order to support the commitment of the Government of Indonesia in developing climate change adaptation information systems, the City of Bogor can take advantage of this momentum to report any efforts made into the National Registry System (NRS). Mr. Ari Wibowo, Head of Vulnerability Identification and Analysis Subdivision, Directorate for Climate Change Adaptation, Ministry of Environment and Forestry encouraged Bogor City to not only carry out climate resilience strategies but also do reporting, monitoring and evaluation. Mr. Joko Tri Hariyanto, Associate Analyst, Fiscal Policy Agency, Ministry of Finance also added that Bogor City can do other funding combinations for climate resilience strategies implementation, such as green climate fund, Indonesia SDG One, Green Sukuk and others with the local budget.
The results of CRVA can be used to provide input in the preparation of Strategic Environmental Assessment, Environmental Protection and Management Plan, Disaster Risk Assessment and other local development planning documents that require climate change information and adaptation action options.
More stories