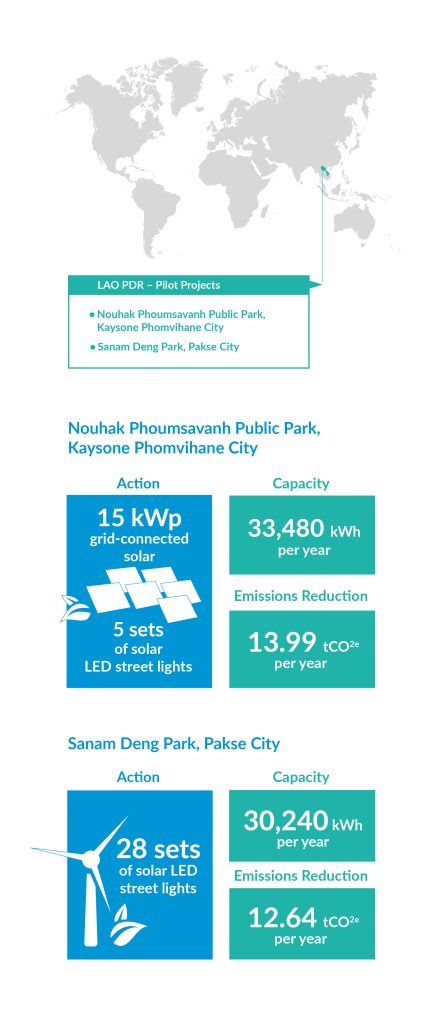 As part of the Urban LEDS II project, the ICLEI – Local Governments for Sustainability Southeast Asia Secretariat (ICLEI SEAS) formally handed over solar powered and energy-efficient pilot projects to Kaysone Phomvihane and Pakse City, Lao PDR on 12 and 14 October 2021, respectively.
Taking into consideration the results of the project activities, small-scale infrastructure pilot demonstration projects were implemented in the two Urban LEDS model cities. These pilot projects aim to help reduce GHG emissions in the energy sector at the community level. More importantly, they seek to empower the community beneficiaries towards energy and resource efficiency, helping them contribute to the city's low-carbon development transition.
Currently, the energy sector is the most significant contributor to the overall GHG emissions of both cities. In 2019 alone, this sector was responsible for 70% or 340,656 tCO2e of Kaysone Phomvihane City's overall emissions and 63% or 224,077 tCO2e of Pakse City's overall emissions.
The two cities, with technical support from the Ministry of Energy and Mines, conducted site surveys and technical feasibility studies last January 2021 as a preparatory baseline assessment to identify suitable pilot project demonstration sites.
Led by the ICLEI Laos project team and with the support of the City Offices of Kaysone Phomvihane and Pakse, the pilot projects began construction in July 2021. A local contractor specializing in decentralized renewable energy and clean water solutions was tapped to help implement the infrastructures. Meanwhile, the system components were procured and shipped to Laos, supported with preparatory technical site assessments of civil and electrical works for their installation.
15-kWp Solar Photovoltaic System in Nouhak Phoumsavanh Public Park, Kaysone Phomvihane City
Kaysone Phomvihane City is the capital and largest city of Savannakhet province, sitting on the Mekong River and bordering Thailand. The city has a land area of 779.03 km2 and serves as a major agro-industrial processing center.
A 15 kWp grid-connected solar photovoltaic system with a net-metering capability was installed in order to power the existing water pumping systems in Nouhak Phoumsavanh Public Park of Thamuang Village. Additionally, two sets of solar LED street light kits with lithium batteries (10m high) along with three sets of solar LED street lights on the existing poles (6m high) have been installed to better illuminate the area. The project is estimated to produce approximately 33,480 kWh per year, equivalent to a reduction of carbon emission of about 13.99 tCO2e per year.
Energy-efficient lighting technology installed in Sanam Deng Park, Pakse City
Pakse City is the capital of Champasak province in Southern Laos. It is the third most populous city in the country, serving as a major transport and commercial hub for Southern Laos.
A total of 28 new sets of solar LED street lights were installed in Sanam Deng Park in Phonkung Village, estimated to produce approximately 30,240 kWh per year, equivalent to a reduction of carbon emission of about 12.64 tCO2e per year.
The successful implementation of these pilot projects showcase green building solutions through solar photovoltaic systems and energy-efficient lighting technology. On top of contributing to GHG emissions reduction, these pilot projects demonstrate the benefits of adopting renewable energy sources and raise public awareness in building a low-carbon city. These pilot interventions are the first solar pilot projects in the communities, advocating the city's "green concept" agenda as part of the city's master plan and ongoing effort to integrate Renewable Energy into the National Development Plan.