There was a strong Urban-LEDS delegation at the 10th World Urban Forum from 8-13 February 2020 in Abu Dhabi, United Arab Emirates. Participants came to share project experiences and learn from each other on innovative approaches to promoting sustainable urban development.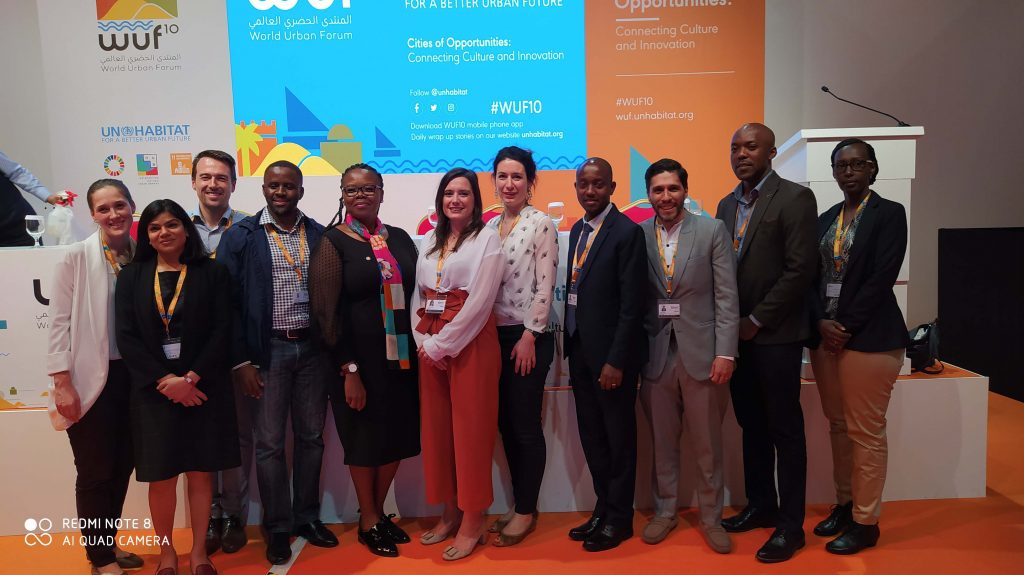 The Urban-Low Emission Development Strategies (Urban-LEDS) project is in its second phase, running from 2017-2021, funded by the European Commission and implemented by UN-Habitat and ICLEI – Local Governments for Sustainability. In short, the project helps local governments to implement integrated low emission and resilient development by offering guidance, tools, and technical assistance; mobilizing cities to commit to the Global Covenant of Mayors for Climate & Energy (GCoM); exploring access to financing; and supporting multilevel governance. Find out more here and at the project website: www.urban-leds.org
UN-Habitat and ICLEI organized a networking event entitled "Innovative governance for low carbon, climate resilient cities" on 12 February. Following opening remarks from Shipra Narang Suri, Chief of the Urban Practices branch at UN-Habitat, and the facilitator, Giorgia Rambelli from ICLEI Europe, some of the key highlights from the session included:
Ms Nontsundu Ndonga, Deputy Municipal Manager, uMhlathuze Municipality in South Africa shared experiences of a Provincial climate change forum in KwaZulu Natal (KZN), which is encouraging the sharing of experiences and a collaborative approach between neighboring municipalities, as well as assisting regional and national governments in understanding how to deliver national policies.
Mr Juan Nicolás Galarza Sánchez Director, Ministry of Housing, Colombia, shared experiences of the Colombian government in mainstreaming climate action into sectoral policies, including a regulation in 2015 that promoted more sustainable construction practices and use of different types of construction materials.
Ms Manisha Gulati, Coalition for Urban Transitions, shared the key findings of their recent flagship report, to which UN-Habitat and ICLEI were both contributing authors, entitled "Climate Emergency, Urban Opportunity"
Ms Bianka Kretschmer, Senior Climate Change Analyst, Adaptation Fund shared experiences of how the Fund is financing urban adaptation projects and some of the key findings from these experiences.
The session ended with three group discussions which posed questions to help inform the drafting of a short practical guide on "Integrating human settlements into NDCs" – a guide being coordinated by UN-Habitat as part of the Urban-LEDS project, advised by an Expert Group of international partners. Some of the key recommendations from these group discussions included:
National governments need to integrate human settlements issues into the revision of their Nationally Determined Contributions in 2020, to achieving raised ambition.
A wide and deep stakeholder engagement process is vital in both the formulation and implementation planning stage of NDC development
National grant mechanisms to local government must include climate change compatible criteria and indicators.
Ms Ndonga of South Africa commented: "I have learnt a lot but what stood out the most for me was the need to harness our technological capabilities in the implementation of urban development programmes. The other theme that resonated with the South African context was the one on planning with culture and heritage. This is important because it does not only ensure inclusivity but is also critical for place making. Culture and heritage, when used properly, capture the soul of the city."
At the end of the session, further WUF participants involved in the Urban-LEDS project joined for a family photo – as seen below. Together, the Urban-LEDS network is helping to build capacity and experience to enhance the implementation of climate compatible development practices in human settlements.